Chef Solomon Johnson's Jerk Chicken
We've partnered with Chef Solomon Johnson of Oakland's Pan African soul food concept, The Bussdown, to release the Cali Jerk Smoke Spice Tribe blend. They serve traditional food in untraditional ways and this jerk is their signature. Read more in the Forbes feature Oakland's The Bussdown Brings Creative Pan African Soul Food Mainstream.
This exclusive blend is inspired by Chef Johnson's family barbecues and has a smoke aroma reminiscent of roadside jerk shacks peppered throughout Jamaica. With notes of habanero, cinnamon and pimento, it's rich in both flavor and history. You can also try this blend on the Square Pie Guys Yardbird Pizza in collaboration with The Bussdown, at both their San Francisco and Oakland locations.
Watch Chef Solomon Johnson, also known as Chef Swoop, compete on the Food Network's Chopped 420, the first-ever cannabis episode airing on April 20th, 2021 on Discovery Plus.
Ingredients
1 lb. Chicken legs
1 lb. Chicken thigh
1 quart Store Bought Chicken stock
Salt to taste
Add All Products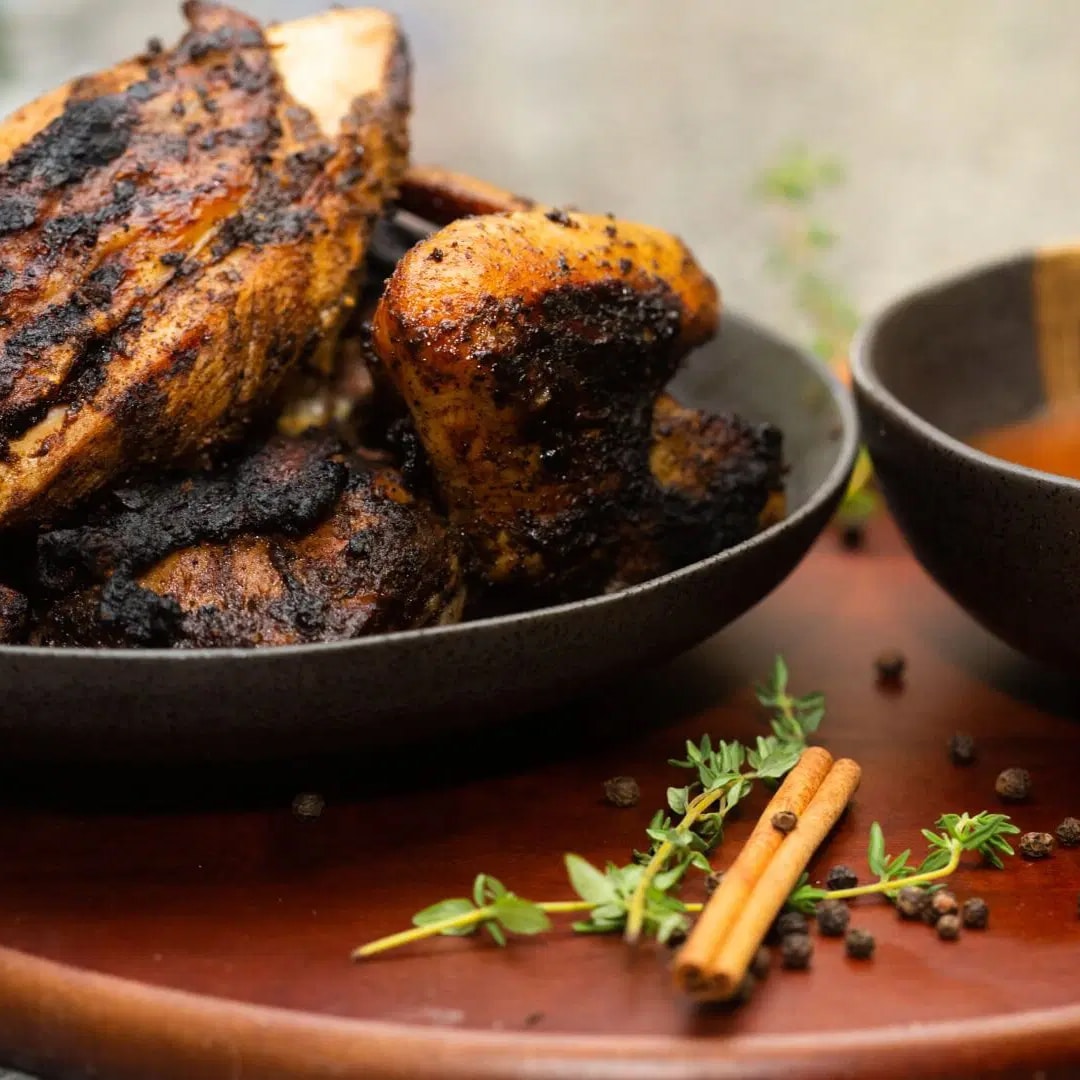 Directions
Season the chicken legs generously with salt and the spice blend about 3-4 tbsp.
Preheat oven to 350°F.
Heat the grill to high heat and grill both sides for 1-2 minutes to develop a nice char.
Add the legs to your roasting pan and cover half way up with chicken stock. Add more of the Spice Blend to the stock if you'd like. Cover and put them In the oven to braise for 1 1/2 hours.
Remove them from oven and serve with rice and beans or pull chicken from the bone and serve over greens for a delicious salad!