Ahi Poke Bowl
Poke bowls are one of those dishes that are commonly thought of as 'restaurant food.' It's time to bring this meal into your kitchen so that you can satisfy your fresh fish craving whenever you want – after all, there's nothing like fresh raw fish on a hot day to hit the spot!
These bowls come together quick, with the bulk of your time being used for prepping all of the ingredients to go in it. The thing to remember when it comes to eating raw ingredients is that fresh and high quality ingredients cannot be skimped on. Head to a reputable source when purchasing your fish and buy produce that's in season and fresh.
Raw fish has been eaten in Hawaii since ancient times with simply seaweed and salt. Over time it has evolved into what we know today as poke, with the arrival of different immigrants bringing new flavors and ingredients. The Chinese and Japanese immigrants brought shoyu and sesame oil, which are now both considered staple ingredients in poke.
Ingredients
1 lb sashimi grade ahi tuna, cut into cubes
1-2 Tbsp soy sauce (shoyu) depending on brand and your preference
1 Tbsp sesame oil
1 bunch scallion, sliced thin
.25 cup limu seaweed (optional), chopped
1 avocado, cubed
1 Tbsp macadamia nuts, crushed
2 cups of rice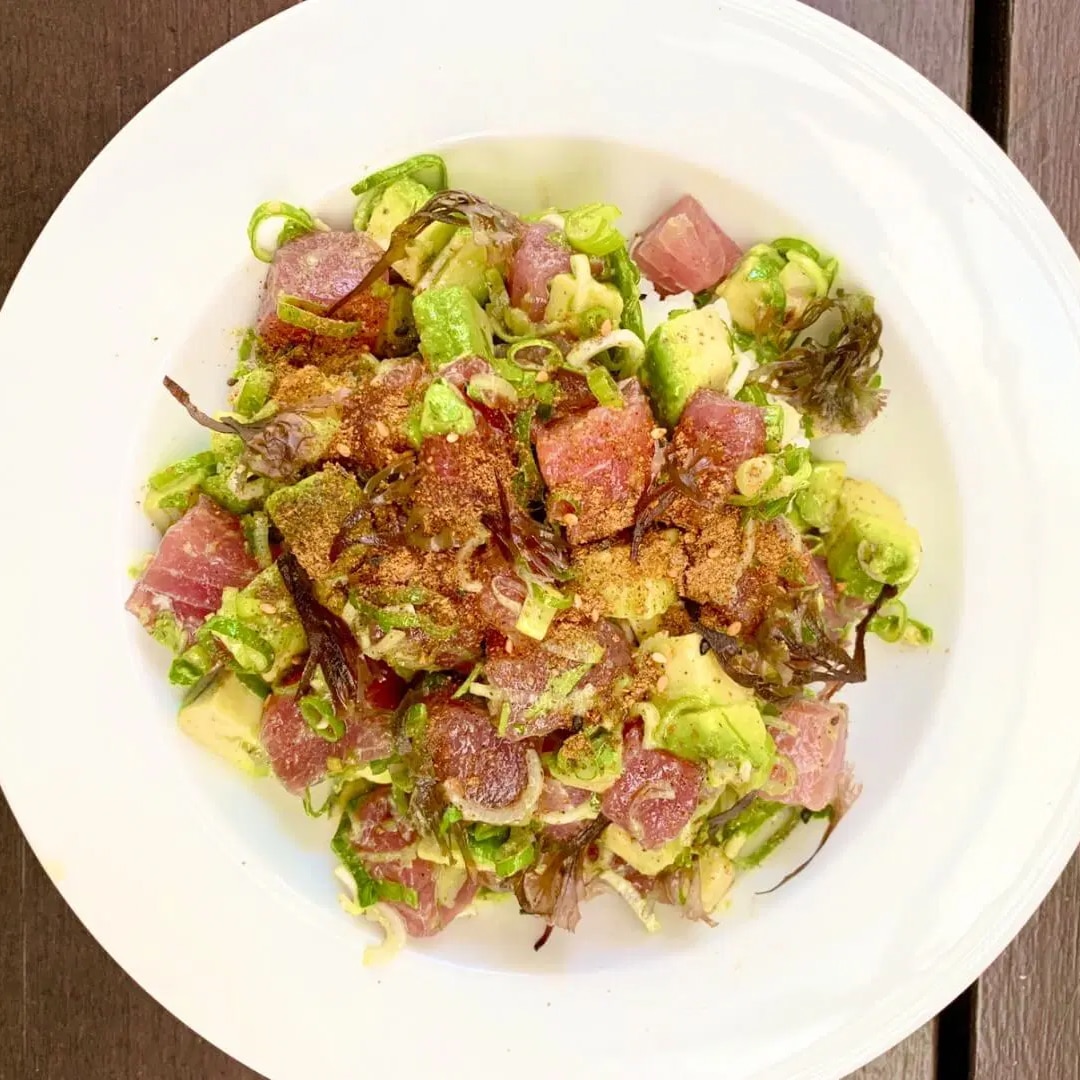 Directions
Prepare all of your ingredients and mix everything together except for the rice. Adjust soy sauce, sesame oil and spice blend to taste.
Serve over rice and enjoy!
Recipe Note
- When eating raw fish, it's important to get the highest quality fish you can find from a reputable source.