BBQ Chicken with Yellow Rice and Beans
This is my favorite BBQ chicken marinade. It's insanely delicious and I made it with lots of trial and error. The soy and miso help to season and tenderize the meat during the overnight marinade and then caramelize so nicely on the BBQ. The Mama Manje blend adds a nice complexity with star anise, cinnamon and habanero for a nice kick of heat.
Note: This recipe is just for the chicken and the green sauce.
A couple tips on how to make delicious rice and beans:

Beans
Sometimes, the simpler the recipe, the better and it's no exception for these small white beans. No need to soak them, simply add cold water at least 2 inches above the beans with a glug of olive oil, 1 white onion roughly chopped, 3 garlic cloves, a pinch of cumin and chile flakes. Bring to a boil for 15 minutes and then lower the heat to simmer for another 1.5 hours or until the beans are very creamy and breaking down. Season with salt to taste.

Rice
This is my foolproof rice technique.
Heat oven to 350F. Rinse the rice until the water runs completely clear.
If using short grain rice, use equal parts liquid to rice; if using long grain rice, use 1.5 parts liquid to rice.Add liquid and rice to a pot and turn on the heat. Season with salt and spices (turmeric works great here) and a couple Tbsp of butter.
Once the rice comes to a boil, cover it and put it directly into the heated oven. Set a timer for 20 minutes exactly. Remove from the oven and let the pot rest without opening for another 10- 20 minutes. Open and fluff and you are ready to go!
Ingredients
Chicken Marinade
2 whole chickens, broken down into legs and breasts
.75 cup soy sauce
2 Tbsp red miso
Creamy Herb Sauce
1 cups basil leaves
1 cup parsley leaves
.5 red onion
3 garlic cloves
.5 cup yogurt
3 jalapeños
2 Tbsp white vinegar
2 Tbsp olive oil
Salt to taste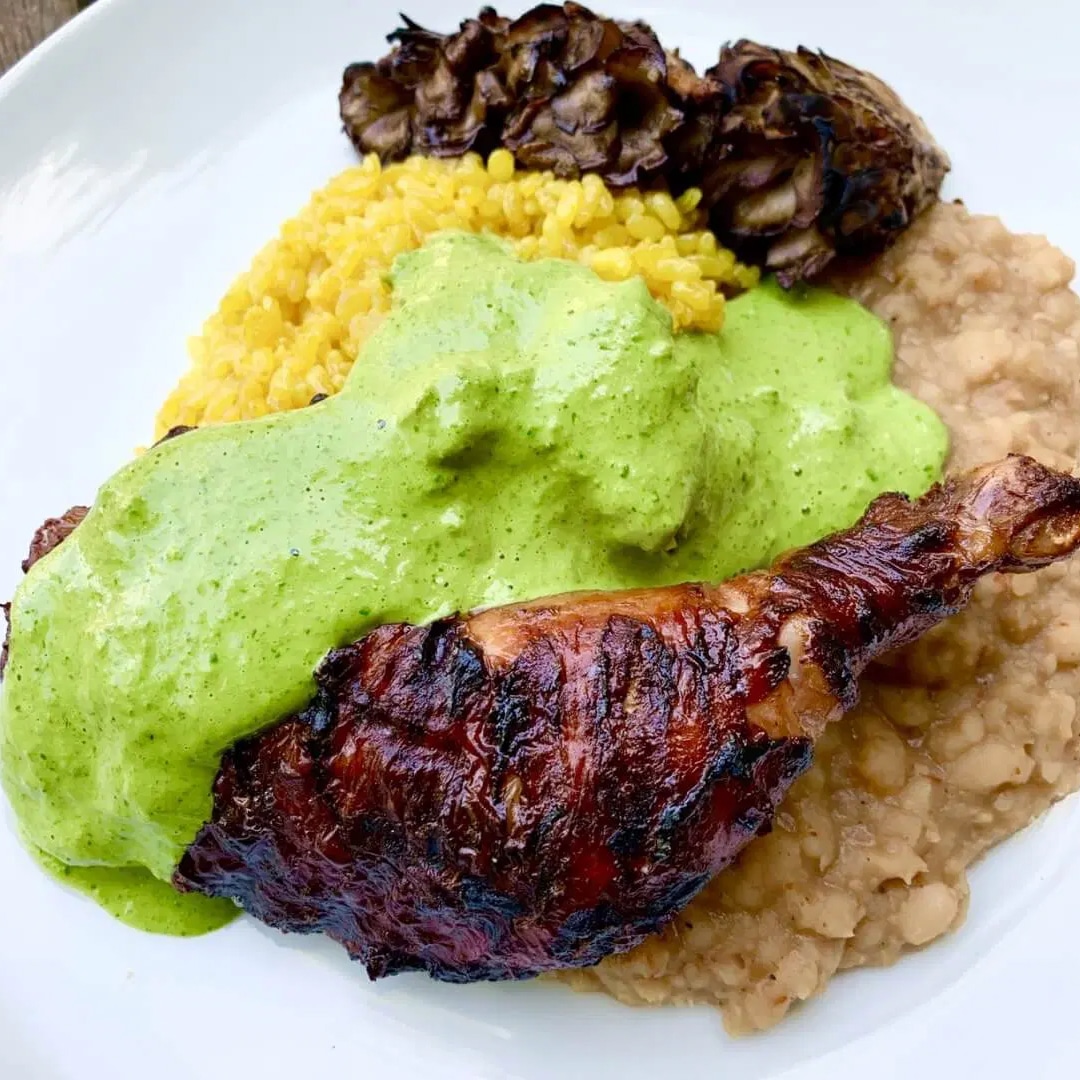 Directions
Mix everything together for the marinade and add to a zip lock bag with the chicken pieces to coat evenly. Marinade over night.
Mix all of the ingredients for the creamy herb sauce in a blender and blend until smooth.
Heat your bbq and cook the chicken in direct heat for about 10 minutes, until nicely charred and caramelized.
Move the chicken to indirect heat to finish cooking for another 20 minutes or so for the legs and 5 for the breasts. I recommend using a thermometer to gauge precise cooking doneness. Breast is best around 150F while legs can go closer to 170F.