Mombacho Café Pork Chops
While in Nicaragua, my obsession with street food was in overdrive, as street vendors with smoky barbecues and juicy meats seemed to be everywhere we turned. 
Mombacho Café was created with pork in mind and is inspired by delicious grilled pork that became our daily staple as we walked through quaint town squares, taking in the beautiful sights and smells. The combination of garlic, cumin and coffee give this blend its unique flavor profile. Using a cast iron pan is recommended, assuming you'll be in the kitchen, but is just as amazing if you cook your pork over coals and baste it with honey butter. Depending on the season, these pork chops go well with any type of side.
This version is created with California springtime in mind, with pea puree, asparagus and crispy shallots to add to the texture and bright flavors.
Ingredients
2 bone-in pork chops, 1–1.5\" thick
Kosher salt
Vegetable oil

*2 tsp Mombacho Café Nicaraguan Blend— enough to coat the pork evenly!
Spiced Honey Compound Butter
4 Tbsp unsalted butter
1 Tbsp honey
1 tsp apple cider vinegar
1 tsp of Mombacho Café Nicaraguan Blend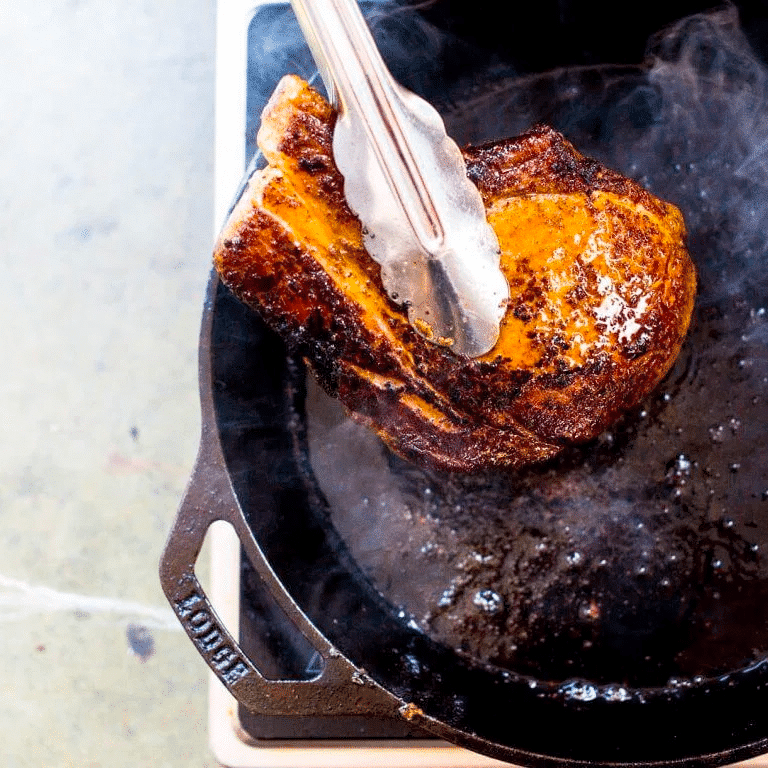 Directions
Season pork generously with kosher salt and Mombacho Café.
Cover with plastic wrap and refrigerate overnight.
Preheat oven to 375°F.
For the compound butter, soften butter at room temperature or microwave for 10 seconds.
Mix with vinegar, Mombacho Café and honey; set aside
Heat skillet with oil to medium high heat.
Pat off excess moisture and press chops into pan for even cooking. Sear for 2–3 minutes on one side.
Flip and oven bake for 5 minutes.
Return chops to stovetop over low heat, add compound butter and baste for 2 minutes.
Remove from heat and let rest for 10 minutes, uncovered.