Stir Fry Shrimp with Lemon Aioli
Stir fried shrimp is one of my fav seafood appetizers! It's super quick, very easy and you can change it up by adding different variety of spices every time. With zingy Lemon Aioli, this stir-fried shrimp turns into finger licking good.
You can serve this as an appetizer or toss some veggies, add some noodles or left-over rice, and turn into a meal.
All it takes it just 15 minutes!
I prepare stir fried shrimp quite frequently and the trick is to NOT OVERCOOK it. If you have a cast iron pan, definitely use that. It gives the best char and cooks evenly, keeping the shrimp tender and perfectly cooked.
Spices I used for this Stir-Fried Shrimp:
I used Spice Tribe MOMBACHO CAFÉ. A brilliantly flavored spice mix. It has roasted garlic, citrus zest with a hint of espresso.
There are of course several different ways you can stir fry seafood.
This is how I do it:
Marinate the shrimp with the spice, little oil, salt and I added little paprika powder too. Leave it aside for 15 minutes.
Then heat a cast iron skillet at medium high heat and brush little oil.
Once the skillet it hot, layer the shrimp in one layer. Let it cook for about 3 minutes. I used medium size shrimp. It will take more time if you use large size shrimp.
Then flip and fry for few more minutes.
The shrimps will get cooked through and remain tender inside.
Drizzle some lemon juice and serve right away.
How to prepare Lemon Aioli
Aioli is very much like mayo which can be flavored up the way you like.
You could use store bought mayo and add lemon juice, zest, grate a garlic clove, little Dijon mustard if you have at home. Give a mix and it's ready.
Different ways to serve
My personal fav is as an appetizer.It goes great in Taco Inside Bao Buns with a sticky sauce.With rice or noodles.
Ingredients
For the Stir Fry
1 lb medium size shrimp, shell removed, deveined and cleaned. Tail intact or removed.
1/2 medium size red onion, thinly sliced
1/2 teaspoon salt
1/2 teaspoon paprika
1 tablespoon oil plus little more to brush on the hot skillet
Lemon Aioli
1/2 cup mayonnaise (store bought, Best Foods or the like)
Zest of half lemon
Juice of 1/2 - 1 lemon (to taste)
Dijon mustard, to taste
1 garlic clove, grated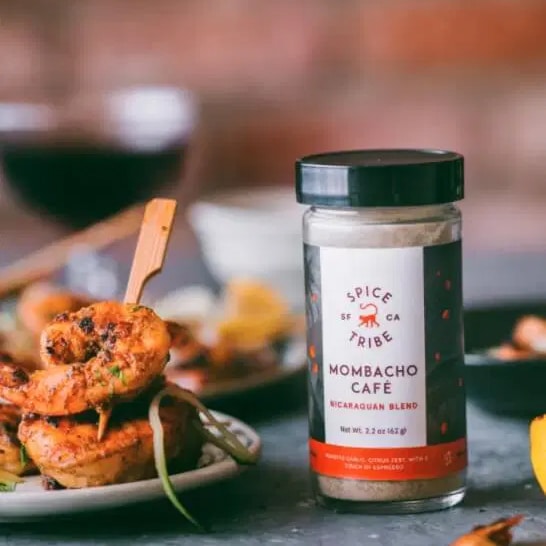 Directions
For the Lemon Aioli
Mix mayo with lemon zest, lemon juice, dijon mustard if you have at home and 1 garlic clove, grated.
For the Pan Fried Shrimp
In a mixing bowl, marinate the shrimp with the spice mix, salt, paprika and oil. Leave it aside for 15 minutes.
Heat a cast iron pan and brush little oil.
Fry the sliced onion for few minutes. Then take it off to a serving plate.
Brush little oil on the same skillet and layer the shrimps. Let it cook for about 3 minutes. Then flip and cook for 3 minutes. (Keep in mind if the shrimp are very large, you will need more time and if small then less time)
Once done, take it off and layer on top of the fried onion.
Serve right away with the lemon aioli.