Baked Moroccan Chicken
Moroccan Baked Chicken — Delicious spiced chicken thighs baked with savory onions, potatoes, rainbow carrots and tangy olives. I love serving this with basmati rice or pita bread for dipping into the sauce. This dish comes together so quickly with the help of Spice Tribe Marrakesh Sitar spice blend. You can bake this in an oven safe skillet or baking sheet.
This moroccan baked chicken comes together very quickly with jst a few products and the most important one is the Spice Tribe Marrakesh Sitar spice blend. This blend is aromatic, floral and sweet and being Middle Eastern, I know a good quality spice when I smell it! I was very impressed by the quality of the blend. This spice blend is made up of Coriander, Honey, Turmeric, Cinnamon Cassia, Paprika, Rosebud, Cumin, Orange Peel, Allspice and Green Cardamom. This is the reason why I love spice blends — the average person won't have all these spices in their kitchen cabinet. Getting this Spice Tribe Marrakesh Sitar spice blend or the Spice Tribe Ancient Halaby ( Middle Eastern Chile Blend) spice blends allows you to make so many different types of middle eastern flavored dishes without purchasing 6-7 individual spices– you just grab ONE product and it spices the whole dish. I used both the Marrakesh Sitar spice blend and the Spice Tribe Ancient Halaby spice blend.
I hope you give this dish a try. It's a family favorite!
Serving Size: 3
Ingredients
Chicken Marinade
4 skinless chicken thighs
black pepper to taste
salt to taste
juice of half a lemon
4 crushed garlic cloves
1 teaspoon grated ginger
4-5 tablespoons olive oil
Baked Chicken Thighs
3-4 shallots cut into wedges
3 rainbow carrots
1 potato cut into wedges
2 large tomatoes cut into wedges
.33 cup green olives (optional)
3 tablespoons tomato paste
.5 cup water
2 teaspoons Spice Tribe Ancient Halaby spice blend
salt to taste
black pepper to taste
3-4 tablespoons olive oil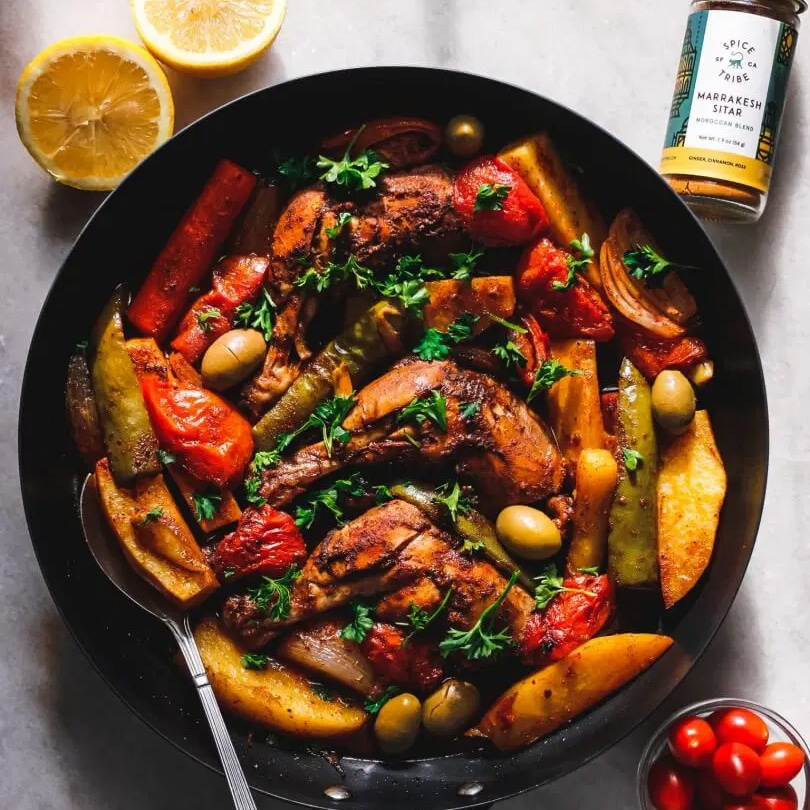 Directions
Preheat oven 400F
In a bowl, ad the skinless chicken thighs, olive oil, spices, salt, black pepper, lemon juice, crushed garlic and ginger. Mix well.
In another bowl, add all your veggies, spices, olives, olive oil and mix well.
In a large round skillet or baking dish, add the chicken thighs and pour the leftover marinade. Add the veggies all round the chicken
In a cup, add the tomato paste, water, salt and black pepper to taste. Mix well. If you like your food a little spicy, you can add a little bit of cayenne. Pour the tomato sauce mixture all over the chicken and veggies.
Place the skillet or baking dish on the middle rack in the oven and bake for 45-50 minutes or until the internal temperature reaches 165 degrees or more.
Garnish the baked chicken with fresh parsley and serve with a side of basmati rice.