Burrata and Steak Crostini
This burrata and steak crostini is the ultimate appetizer. (I would have a whole platter for dinner as well, though). Creamy burrata on top of garlicky sourdough toasts, and perfectly cooked hanger steak topped with pepper flakes, chives and a drizzle of balsamic vinegar – name me a better appetizer? I'm waiting…
What you'll need:
Hanger steak, sourdough baguette, burrata, garlic, olive oil, salt, pepper, chives, balsamic vinegar and Porcini Paradiso (from Spice Tribe!).
How it comes together:
Begin by preheating your oven 350 degrees.
Season your steak, char on all sides and place in the oven for that final cook (more directions with the printable recipe below)!
Slice and toast your bread, and assemble with your burrata, chives, and steak (I like mine medium rare, but you can cook however you prefer).
BIG TIP for flavors on the bread
After removing from toasting, take your garlic clove and run it against the toast. This makes it super creamy + garlicky, it comes out super strong this way.
BIG TIP for cooking steak
Bring to complete room temperature: 45-1hour depending on the size of the steak. This allows an even sear with the cooking process, allows for a bigger char, and allows all those flavors to really come through.
I'm literally obsessed with this recipe, and it is going to be SO great and impressive for the holiday season.
Ingredients
1 pound hanger steak
1 sourdough baguette, sliced in 1 inch pieces
8 oz burrata
2 garlic cloves
Olive oil to season
Salt and pepper to taste
Top with chives and a drizzle of balsamic vinegar (optional)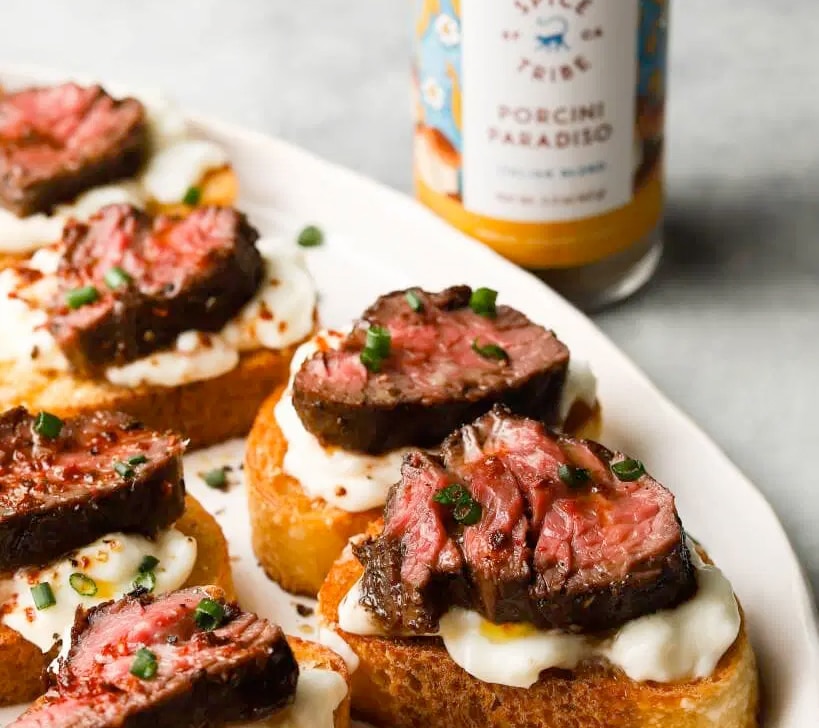 Directions
Preheat your oven to 350°F. Bring your steak to room temperature, we are using hanger steak here, but ribeye will work just as well. Season with salt, pepper and your Spice Tribe Porcini Paradiso seasoning.
Slice your bread in about 1/2 inch pieces – it should make around 20-24 slices. Place on a sheet tray and toast (about 5-10 minutes).
In the meantime, heat a cast iron with a drizzle of oil until piping hot. Add your steak and sear for 2 minutes on all sides for medium rare. Transfer to the oven for another 1-2 minutes until your desired cook time. Remove from the oven and let rest for about 15 minutes. Thinly slice and set aside.
Once your bread is toasted, take a garlic clove and spread it against the toast. Top with burrata, then your steak. Top with chives, flakey salt, pepper and balsamic vinegar. Serve!