Octopus Taco with Pineapple and Salsa de Semilla
This dish is inspired by the delicious octopus tacos of Saylita, Mexico. It's reminiscent of tacos al pastor, using octopus instead of the traditional pork – talk about a show stopping meal! Nothing to be intimidated of, this meat simply takes some practice and once mastered, is just as delicious and tender as the rest of them.This recipe calls for a modern cooking technique called Sous vide. This technique is often used in many fine dining restaurants because of its precision. I love cooking octopus Sous vide because the low temperature cooking allows you to get the perfect texture and tenderness. Whether it's your first time trying this cooking method or you're interested in learning more, I've included some tips and tricks below.
Ingredients
2-3 lb 1 Spanish octopus,
Salsa de semilla
.25 cup sunflower seeds
.25 cup pine nuts
.25 cup sesame seeds
1 tsp of cumin seeds
2 garlic cloves
3 Tbsp olive oil
Pineapple salsa
.5 pineapple, diced small
1 bunch of cilantro, chopped
Juice from 1 lime
Tortillas and beans for serving.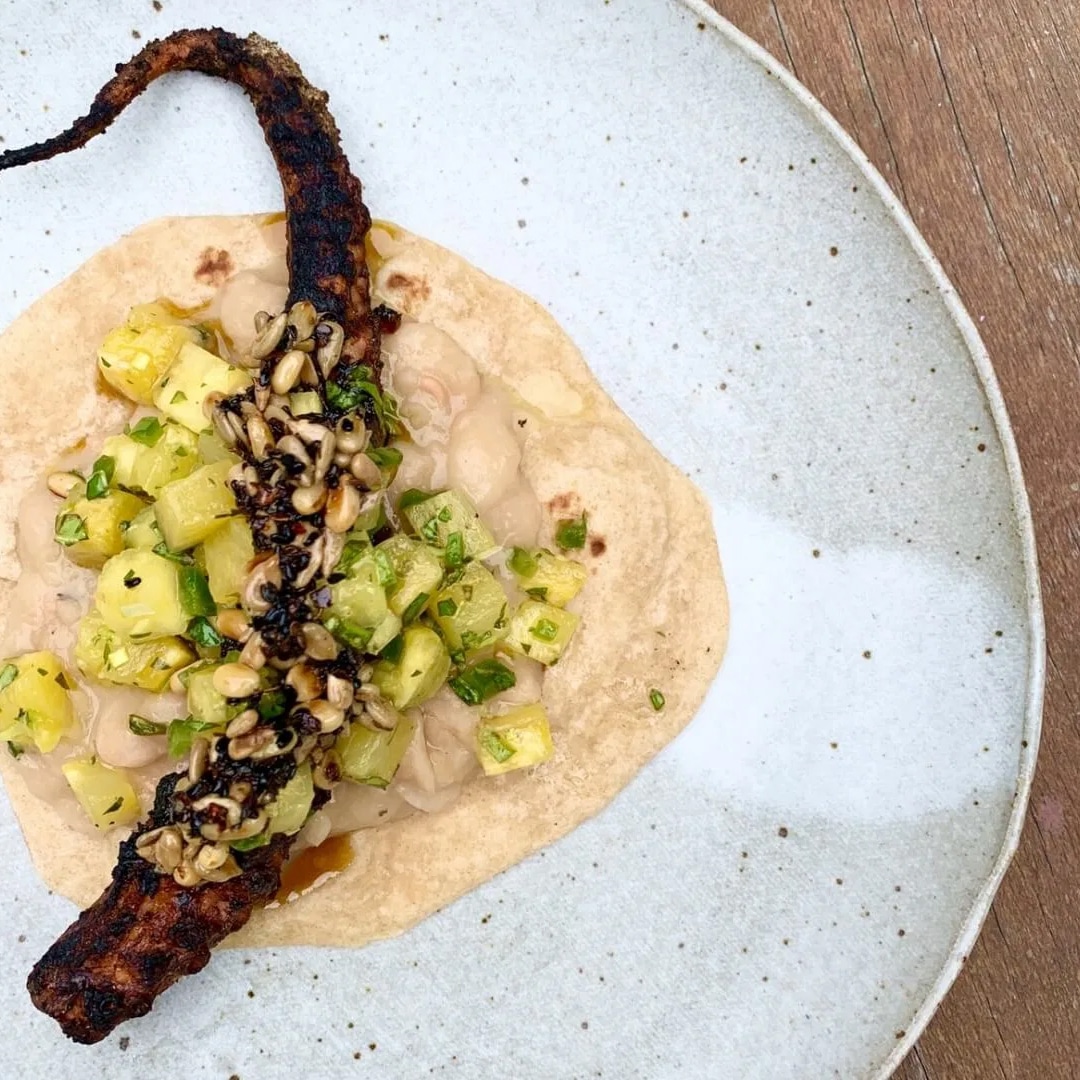 Directions
Blanch octopus in boiling water by dipping in the entire octopus in the water for 3 seconds and then pulling it out of the water. Repeat this process for a total of 3 dips.
Sous vide octopus tentacles with a splash of oil and a pinch of salt at 175F for 5 hours. Alternatively you can continue to boil octopus until tender, about an hour or so.
When the octopus is cooked, you can either dip them into an ice bathe to stop cooking and set the skin or let it cool completely in the cooking liquid if time permits.
While the octopus cools, make your salsas and heat your bbq.
Salsa de Semilla
Heat olive oil in a sauce pan over medium heat and add garlic to toast.
When garlic is light brown, add the rest of the seeds and continue to toast until fragrant, 30 seconds or so. Remove from the heat.
Pineapple salsa
Simply toss diced pineapple with chopped cilantro, and lime juice and season to taste with salt.
Grilled octopus
Remove the tentacles from the body of the octopus if you boiled, they should already be removed if you used Sous vide.
Toss tentacles with just enough olive oil to coat and season them generously with Masa Mole and salt.
Gently and carefully place them on to the well oiled and clean bbq so they do not stick. They are already cooked so we just want a quick hot sear to char them a bit.
Assemble your taco. Tortilla, then beans then octopus and finish with both of your salsas. Enjoy!
Recipe Note
- Sous vide is a modern cooking technique where you vacuum seal your ingredients and then dip them into a pot of water that is heated to an exact temperature. Usually a very low temperature which allows for incredibly accurate and unique results.
- The triple dip blanch technique is a classic Galician technique used throughout Spain. There are a lot of unique techniques for getting octopus tender, from banging it against rocks to braising it with wine corks. The triple dip blanch has worked for me and it works because by dipping in and out 3 times you are slowly tempering the tentacles and getting them ready to be cooked. If you were to drop the octopus directly into boiling water the muscles tense up and get tough. Like I said, this may be another octopus cooking myth but it works for me.
- Octopus may be intimidating to cook but it is actually quite simple. A low and slow cook is used to tenderize the tough meat and then it is finished with a hot sear to char the exterior.