Smokey Sausage Smoortjie with Spinach over Parmesan Grits
Smoortjie = a simple tomato & onion stew with sliced hot dogs when we were struggling, and good sausage when we got paid
A little bit South African, a little bit Southern…seasoned with Italian flavors (@spicetribe Porcini Paradiso blend) to make these basic staples stand out
I love that this blend brings out the flavor of regular old button mushrooms, with rosemary, Spice Tribe Porcini Paradiso, Calabrian Chile and basil.
Serving Size: 4
Ingredients
For the smoortjie
.5 tbsp olive oil
1 small onion, finely diced
4 cloves garlic, finely minced
4.8 ounce smoked sausages, sliced
2 cups button mushrooms, quartered
3 cups whole cherry tomatoes
.75 cup chicken stock
1 teaspoon freshly cracked black pepper
1 teaspoon sugar
8 cups fresh spinach - sautéed
Grits
2 cups water
2 cups chicken stock
1 cup yellow corn grits
2 tablespoons butter
.5 cup half n half or heavy cream
.25 cup finely grated parmesan cheese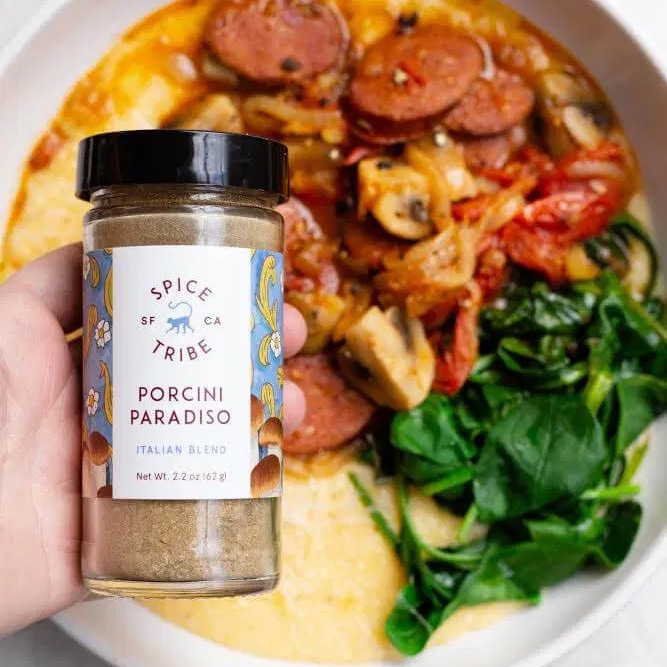 Directions
Heat olive oil in a skillet over medium heat. Add onion, garlic and sauté for 5 minutes until translucent & fragrant. Add sausage, mushrooms and porcini paradiso, cook 5 minutes until sausage is slightly crisp then add tomatoes and stock. Place a lid on and reduce heat to low, simmer for 20 minutes until tomatoes are broken down and saucy. Add sugar, season to taste with pepper.
Bring water and chicken broth to a boil over medium-high, gradually whisk in grits and add butter. Lower heat to medium and continue to stir until grits are thickened or cooked through (about 20-35 minutes depending on the grind). Turn off heat, stir in the half n half followed by Parmesan and season to taste. It'll thicken upon standing, have some extra stock ready if it needs thinning out. Serve with spinach and smoortjie.